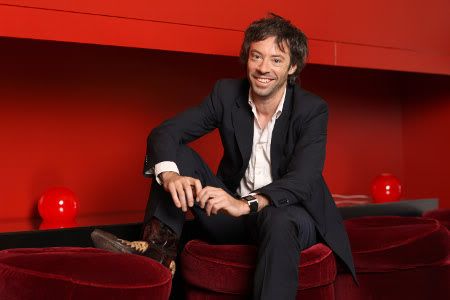 The YesAndClub is hosting a fireside chat on 24th May with one of the UK's most successful web entrepreneurs, Michael Acton Smith. Michael is the founder of Mind Candy (Moshi Monsters and Perplex City) co-founder of Firebox.com and co-creator of Shot Glass Chess (his greatest achievement in our opinion).
Michael will be sharing his experience of over 10 years in the trenches, raising funding at angel and VC level, building great services and attracting millions of users and customers. He will also give us his thoughts on how to generate and develop great ideas.
Michael is CEO and founder of online game developers Mind Candy. In 2008 the company launched Moshi Monsters, a new virtual world and social game aimed at children (6-12 year-olds). The site is now one of the fastest growing kids sites in the world with 18m registered users and 6m monthly unique visitors.
Mind Candy's first project was Perplex City, a deviously complex global treasure hunt played by thousands of people around the world across many different types of media including mobile phones, emails, actors at live events, skywriting and helipcopters.
Prior to Mind Candy, Michael co-founded Firebox.com, which is a hugely successful online retailer of gadgets, games and gifts.
Michael also co-foundered Second Chance Tuesday (events to connect entrepreneurs to investors), and Berwickstock (a very quirky music festival).
The event is free to YesAndClub members and press. It is £20 to invited guests. Places are limited to 50 so RSVP soon to avoid disappointment.
Attendees:
Tom Boardman, Co-founder, Firebox
Julie Allen, Head of Creative and Digital, MTV Networks
Henrik Werdelin, Entrepreneur in Residence, Index Ventures
Ann Jamieson, Founder, Price Jamieson
Jamie Murray-Wells, Founder, Glasses Direct
Julia Macmillian, Founder, Toyboy Warehouse
John Mitchinson, Co-founder, QI
Jamie Klingler, Director of photography, Shortlist Magazine
Ben Way, Director, Making Rain
Giles Palmer, Founder, Brand Watch
Kathryn Parsons, Co-founder, Scarlett Mark
Oliver Mardling, Founder, What Talent
Joan Lockwood, Marketing and PR Europe, Stardoll
Stewart Baird, Investment director, Bridges Ventures
Calypso Rose, Founder, Clippy
Simon Prockter, Founder, Housebites.com
Christine Hartland, Founder, Patchwork Productions
Hermann Djoumessi, Film maker, Freelance
Kathleen Hall, Journalist, Vitesse Media
Kevin Caruth, Founder, Urban Gentry
Sophie Neary, COI, Silk Route Global
Paul Cockerton, Founder, 63336
Anna Delaney, PR, Leap Anywhere
Steve Dukes, COO, Empora
Justin Champney, Co-founder, Buildabrand.com
Christina Lundberg, Founder, Bed of Nails
Justin Pollard, Director, Visual Artefact
Reverend Joanna Jepson, Chaplain, London School of Fashion
Amil Tolia, Founder, Reference Tree
Gareth Elwell, Founder, Greenhouse Ventures
Dan Kieran, Deputy editor, Idler
Jez Kay, Founder, NowHouse
David Ramm, Partner, Edwards Angell Palmer & Dodge UK
Malcolm Scovill, Founder, Leap Anywhere
Sam Barnett, Founder, Struq
Robert Fenton, Founder, Robert Fenton Enterprises
Bernie Ritchie, Founder, Management Sushi
Derek Bishop, Founder, Abeo Consulting
Andre Brown, Founder and CEO, Locayta
Tom Ball, Founder, Cognac
Paul Birch, Investor and Co-founder, BirthdayAlarm / Bebo
John Williams, Author, Screw Work – Let's Play
Ben Geliher, Game Designer, Mind Candy
Poppy Dinsley, Marketing Manager, School for Startups
Simon Campbell, Director, Viapost
Dave McQueen, Founder, Milestone Unlimited
Vikki Chowney, Editor, Reputation Online
Alx Clive, Founder, Affinity Media Group
Paul Blanchard, MD, Right Angles
Mike Fairbrass, Head of Modeling, Richard Rogers Partnership
Flick McLean, Head of Charities, Leap Anywhere
Nick Shreck, Co-founder, Gloop Me
Tom de Grunwald, Format developer, Iris Productions
Andrew Gerrard, Consultant, d-marketing
Xander Cansell, Researcher, QI
Dave Stone, Business designer, Freelance
Mark Machray, Consultant Solicitor, Keystone Law
Rupert Baker, Founder, Team Up
Jonathan Grubin, Director, SendSocial
Tom Impallomeni, Director of Finance, Webswappers
Axel Gutschenreiter, Senior Art Designer, Mind Candy
Luke Petre, Founder, Bitminion
Brett Putter, Senior Partner Emerging Technologies, Forsyth Group
Marcus Mac Innes, Founder, pix.ie
Henry Mori, Chairman, Imperial Entrepreneurs
James Willis, Director, Watson Little